| | | | |
| --- | --- | --- | --- |
| How Significant is the Value of Facilitation? | | | |
July 2013 - The FoCuSeD™ Facilitator eNewsletter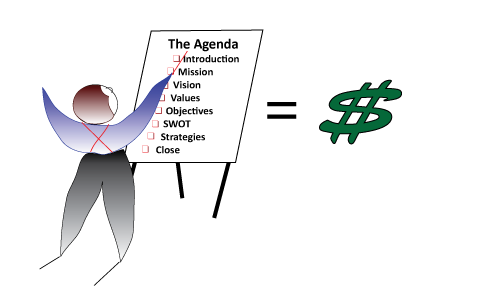 How Significant is the Value of Facilitation? | Gary Rush Facilitation

This past year, I was on the committee that developed the inaugural IAF Facilitation Impact Awards (FIA) program. I was also one of the evaluators for the submissions. We received 36 submissions and awarded 8 Silver Awards, 17 Gold Awards, and 7 Platinum Awards. First, I want to congratulate all of the award recipients. Award recipients and others familiar with the awards program have asked us, "How significant was the value of facilitation?" The combined financial impact (savings, cost avoidance, increased revenue, and increased outside investment) for these organizations not only was hundreds of millions of dollars, but more importantly, their culture shifted to be more engaged, empowered, and more creative in solving the organization's problems that contributed to the overall well being of the organization.
In 2012, the IAF initiated an award program, The IAF Facilitation Impact Awards (FIA) honoring excellence in facilitation and its positive impact on organizations around the world. The inaugural awards were presented at the IAFNA 2013 Conference in Orlando, FL on June 6, 2013 covering North America, South America, and the Caribbean. This was a non-competitive inclusive award program. The purpose was to demonstrate the value of facilitation by highlighting and celebrating organizations and Facilitators whose use of facilitation had significant, impact on their organization. Each submission was scored on a scale of 1 to 100 with scores of 91 and above receiving the Platinum award, 81 and above receiving the Gold award, and 71 and above receiving the Silver award.
In this article, I will focus on the Platinum Award recipients.
Defense Intelligence Agency (DIA) – Connie Morrow – At the Defense Intelligence Agency, Connie Morrow used facilitation to engage employees and resolve unit and departmental issues in addition to making the goal of the organization to have managers and analysts collaboration competent. As a result, facilitation is now used at all levels of the agency, is used to develop the strategic direction of the agency, and, using facilitation to work through workplace issues, has saved the agency $500,000 by avoiding formal resolutions. In addition, facilitation has transformed interagency collaboration between DIA and other intelligence agencies. Over 1000 employees at DIA have been involved in facilitated workshops and to date, DIA has trained over 85 employees in facilitator and facilitation skills.


Hydro One – Jim Rankin – At Hydro One, Jim Rankin proposed using a cadre of facilitators to enable change management and engagement of employees, particularly in re-engineering Central Scheduling process. This involved management and union workers along with significant resistance due to concern over job changes. As a result, the organization resolved dozens of issues, engaged hundreds of employees in facilitated workshops, improved scheduling and utilization of equipment resulting in hundreds of dollars per hour in savings, and facilitation is now a core competency of managers at Hydro One.


KLA-Tencor Final Wafer Inspection – Ken Wells – At KLA-Tencor, Ken Wells proposed using facilitated workshops to help generate ideas for new products and cross-divisional sharing in the wafer inspection group. Millions of dollars are at stake in product development in this high-tech industry. As a result, technology research was focused, new creative ideas went into research for long term development, computer performance improved over 25%, employee satisfaction improved, management confidence improved, and facilitated workshops are now commonplace.


Newport City Renaissance Corporation – Joel Mills – The city of Newport, Vermont, was dealing with a drastic change in demographics, loss of jobs, struggling economy, and limited resources. They hired The American Institute of Architects', Joel Mills, to host a Regional and Urban Design Assistance Team program to revitalize the city. Using facilitated workshops engaging city officials and the community they completely transformed the city of Newport through neighborhood projects, brought in over $250 million in investments, added 2000 jobs (out of a city of 5000), and built the needed momentum to maintain the engagement.


Northwest Territories Department of Finance – Leanne Tait – Northwest Territories is a remote part of Canada with remote residents, limited access, largely indigenous groups, and 11 different official languages. The Minister of Finance engaged Leanne Tait to facilitate dialogues with the territory residents to get input regarding priorities for government investments. Over 140 people from around the territory participated in workshops using mixed media, to assist with different languages and cultures. As a result, residents now understand the complexities of government funding, feel empowered to set priorities, and are engaged in their future.


Oxford Properties – Tamara Eberle – At Oxford Properties, one of the largest shopping centers in Canada, a change in management after almost 20 years prompted the new Property Manager to look into ways to improve customer service, improve relations between management and employees, and develop a plan for the future that everyone felt part of. Tamara Eberle was hired to facilitate workshops engaging all employees in workshops to set standards, create a vision for the shopping center, generate recommendations from employees for motivation and professional development, and break down barriers between management and employees. As a result, employee grievances dropped by 50%, 13 employees were promoted, 79 new recognition awards were given, and customer satisfaction has improved 5 times. Intangible benefits include commitment, change in attitude, improved collaboration, and improved morale.


UIL Holdings, Inc. – Safety – Dorothea Brennan – At UIL Holdings, safety is critical and involves both management and union. UIL asked Dorothea Brennan to facilitate workshops involving both management and union to develop ways to improve safety while improving the relations between the parties. As a result, safety incidents dropped by almost 80%, the company has implemented a Safety Strategic Plan with commitment and ownership by all parties involved, all levels of the company are involved in workshops, Joint Problem Solving is now a core process, and facilitated After Action Reviews are commonplace.
None of the organizations participated through a few selected members. Every organization engaged many, if not all, of the management and employees in facilitated workshops and most involved cross-functional areas as well. Numerous people within the organizations were trained in facilitation skills to help sustain the momentum and broaden the reach of the program. Creative tools, such as Lego towers to help indigenous people communicate, helped engagement, communication, and ideation. In every case, facilitation was used not as a quick fix to a problem but as a new way to approach problem solving and business in general moving forward. Facilitated workshops became a cultural change.
What is the real significance? Facilitated workshops have now been proven to deliver significant value to organizations. The millions of dollars saved by the Platinum Award recipients is small when you look at the overall savings achieved by all of the recipients combined. It proves that when organizations engage everyone and they learn to collaborate, the organizations thrive and grow.
The use of facilitated workshops has engaged, empowered, and motivated all levels of the organizations. Creative new ideas have been developed and significant financial savings have been realized. Most importantly, the cultures of the organizations have changed to become collaborative.
After reading what the award recipients gained, I can't help but wonder why every organization doesn't make facilitator and facilitation skills a core competency for every employee of their organization.