| | | | |
| --- | --- | --- | --- |
| The Many Faces of a Facilitator | | | |
November 2014 - The FoCuSeD™ Facilitator eNewsletter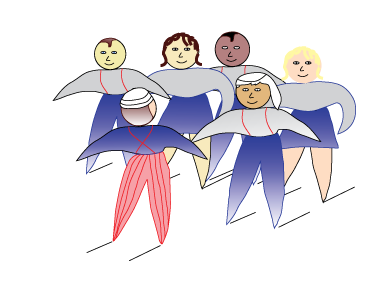 The Many Faces of a Facilitator | Gary Rush Facilitation
I recently spent two weeks in the Peruvian Amazon Jungle with my son, Sean, at a retreat for healing. We were facilitated by two Facilitators – instead of facilitating group consensus, these Facilitators facilitated individual healing, while forming a support group. Did these Facilitators meet the IAF Core Competencies?
The Journey
Sean and I signed up for this 2-week program in the Peruvian Amazon where we would relax, take plant medicines, practice Yoga, and do a lot of reflecting. The brochure stated that we would have two "facilitators" to guide us through our journey. Being Facilitators ourselves, we were a bit skeptical as we frequently find people calling themselves "facilitators" when in reality, they moderated, hosted, or filled a role differently from what we know.

We flew to Peru and then to Iquitos where we met 20 other intrepid "pasajeros". As we waited for our bus, one of our Facilitators was there to welcome us and ensure that everyone was present. The bus arrived, and if you have ever seen the movie, Romancing the Stone, you would recognize this bus – old, rickety, colorfully painted, but working. The backpacks were loaded on to the roof of the bus and away we went for a 45-minute bumpy ride to a boat landing. At the boat landing, our luggage was placed into one boat a long, narrow, wooden boat powered by a lawnmower engine with a propeller attached to the back of the motor. We embarked on another similar boat for a 45-minute ride down the Amazon River. What an amazing view. I never realized that dolphins swam in the Amazon River! We arrived and docked into a muddy embankment with logs for steps up to the landing where local villagers waited to carry our backpacks. We hiked for one hour along a jungle path to reach the retreat. Local villagers, from teenage to over 60 years old, carried our backpacks, weighing upwards of 30 pounds each, along the jungle path at a quick pace, almost a jog, making the rest of us wonder as we trudged along.
We arrived at the retreat and met the rest of the staff and our second Facilitator. We spent the remaining two weeks being facilitated through rejuvenation while enjoying the beautiful setting of the retreat within the Amazon Jungle.
Back to Facilitation
I watched our Facilitators with keen interest both because they did an outstanding job and because the setting was a bit different than I'm used to. I'm used to facilitating groups to consensus whereas our Facilitators were not looking for group consensus, but individual growth. So, did they meet the IAF Core Facilitator Competencies?

Create Collaborative Client Relationships – The Facilitators met and spent time with each one of us at the beginning of our journey to find out why we had come and what we desired out of our journey. They prepared properly to meet "pasajeros" needs.

Plan Appropriate Group Processes – The schedule (agenda) was given ahead of time, but was made flexible when needed. They worked with the other staff members to tailor the program to our needs – who to massage, who would take which plant medicines, etc. They implemented the right approach to deliver the agreed to outcome.

Create and Sustain a Participatory Environment – The Facilitators facilitated group discussions about our individual progress. They had us do an introduction to help us get to know each other. The Facilitators set up seating to ensure that couples were split up so they bonded with others. Our discussions were safe and everyone participated. The environment was welcoming. They managed communication, conflict, and encouraged participation.

Guide Group to Appropriate and Useful Outcomes – The Facilitators, on an individual basis, did guide the "pasajeros" when someone went off track. They discussed it with the "pasajero" and remained neutral. They helped the "pasajero" describe what he or she was concerned about and got him or her to look at what the desired outcome was and how best to achieve it. On an individual level, they kept us on track so we could achieve our desired outcome.

Build and Maintain Professional Knowledge – The Facilitators spend time studying to improve. One was a Yoga instructor now learning facilitation skills. The other was an ex-corporate lawyer learning new skills. Building and maintaining their professional knowledge is a lifelong trait for both. They continue to learn new concepts and ideas.

Model Positive Professional Attitude – The Facilitators modeled what they wanted from us. They gave us guidance in a positive and professional manner. They acted with integrity and were very self-aware.
What I Learned
Yes, they met the IAF Core Facilitator Competencies. First of all, facilitator skills are useful in any situation and setting. We don't always need a group to use facilitator skills. Guiding individuals to desired outcomes is just as difficult as guiding groups. So, I was skeptical about our Facilitators, but learned that we were properly facilitated.
Sometimes our paradigms get in the way of seeing new applications of what we do. What we do is applicable to any role from a nurse practitioner, counselor, leader, etc. If we broaden our view of how our facilitator skills apply, we can create success and add value to others, expanding our world.